The latest chinese new barbie toy manufacturers suppliers. shantou toys chenghai toys y...
Published: November 09 for
Anonymous
Jieyang
City Yami toy factory in mainland China, the Middle East, Europe, America, Southeast Asia and other regions formed a large market network, the company has always been to products for vitality, actively promote innovation, professional senior engineers and management staff, each process are subject to stringent quality control to ensure product quality stability and reliability.
Our main production dolls, modern design, exquisite workmanship, good quality, reasonable price, good reputation, quality of sales and service by domestic and foreign customers, all products are EN71 AZO 7P
latest
edition version 2014 certificate.
For a long time, Yami toy factory of "quality first, reputation first, reasonable price" principle, in the fierce market competition, playing safe, has won the goodwill of multi-client and establish a good business relationship. In this regard, we will build on now, look to the future and continue to strengthen the management system, strict quality control, in the new century, constantly strive to develop the highest quality products Yami doll dedicated to new and old customers, service to society .
???? We sincerely welcome all enterprises and friends to visit, guide, create brilliant. Your arrival is our pleasure!
The company's official website: http: //www.yameitoys.com/
Contact: Yao
Mobile: 15975139877
Mobile: 13822066030
Phone: 0663-8597377
Fax: 0663-8597377
QQ: 1007883732
Mail: 1007883732@qq.com
Mail: admin@yameitoys.com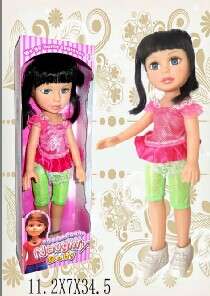 The latest chinese new barbie toy manufacturers suppliers. shantou toys chenghai toys yiwu toy. jieyang toys