China best manufacturer zdzk rotary dryer for aac plant/zhengdazhongke machinery
Published: May 27 for
Anonymous
Introduction of Rotary Dryer:

www.aac-equipments.com, info@aac-equipments.com.Rotary Dryer is the foundational equipment for ore dressing and other industry, this machine can deal with the wet ore powders and other similar materials, and then can achieve the aim of below 6%moisture demand. The rotary dryer is also the most power consumption equipment, such as coal, gas and electricity.

Working Principle of Rotary Dryer:

The rotary dryer comprises of a rotating shell supported on rollers / tyres and driven by means of suitable drive arrangement. Drying / Cooling media (Air / Gas) is admitted through stationary hood at one end & taken out from stationary hood from other end. Feed is admitted through suitable feeding mechanism like Screw feeder / Chute. The rotating shell is provided with specially designed material showering mechanism like Lifters / Garland Chains etc. Shell inclination & rotating speed facilitate forward movement of the material towards discharge end providing required residence time. Drying (or Cooling) takes place by heat transfer to (or from) showering material with the drying (or Cooling) media within the shell. Product is discharged from the stationary hood through suitable equipment like Flap Valve / Rotary Valve / Screw Conveyor / Chute.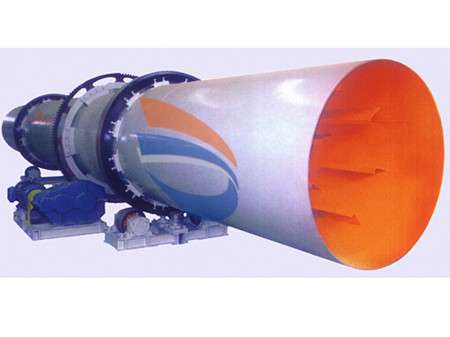 China best manufacturer zdzk rotary dryer for aac plant/zhengdazhongke machinery